Camp Summersault
In 2013, we celebrated 28 years of Camp Summersault. This is a weeklong, fun summer day camp experience, provided at no cost for children with cancer ages 5-13 and their siblings.
The American Cancer Society works closely with the outstanding volunteers from the Long Beach Cancer League, and employees from the Jonathan Jaques Children's Cancer Center at Miller Children's Hospital at Long Beach Memorial Medical Center to camp - the only oncology camp for patients that includes their siblings.
For those campers who live most of their lives in a clinical environment, normalcy is something they and their siblings can experience at Camp Summersault. The children gain support and have fun with others who understand what they go through to fight this disease.
A brief slideshow of
Camp Summersault
On Thursday evening when the campers gather around the    campfire    and   throw their "wish stick" into the fire, they share a common wish to return to camp the following year.   For most of the 100+ campers attending Camp Summersault, this wish can be a reality. Progress in the treatment of childhood  cancer over the past 30 years has been impressive. Today 78% of those diagnosed with cancer will survive five years or more - a 40% increase since the 1960's.
The generosity of donors and supporters such as The Fairfield Foundation, Boeing, The Long Beach Cancer League and every single sponsor and patron of our annual Long Beach Gala - benefiting the American Cancer Society- continue to improve the quality of life for these campers and their families as they imagine a brighter future.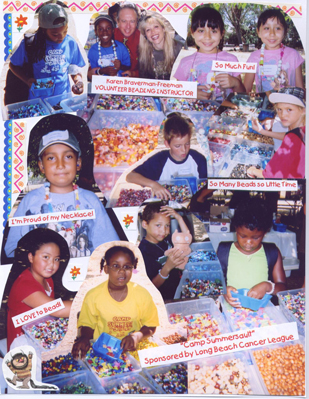 Beading Activity For The Children At Camp Summersault
To donate cash, mail checks written out to "LBCL" and send to
The Long Beach Cancer League, 936 Pine Ave., Long beach, CA, 90813
with a memo that the donation should go to "Camp Summersault".
Thank you